When we walk together, the journey of change begins.
TIPIAC is a 100% owned First Nations business, founded in 2016 by our CEO Bronwyn Cochrane. Bronwyn is a proud Gamilaraay yinaar from northwest NSW. With over 25 years of working in education, Bronwyn is a strong advocate in helping to provide pathways for organisations and businesses. Having a clear pathway to build a culturally intelligent workforce and frameworks allow services to further strengthen their capacity to provide educational and health services that are culturally responsive.
We are committed to providing a strength-based approach to improving the lives of all First Nations peoples. We work with education and health systems, small business as well as government and independent organisations. We are focused on providing pathways to build culturally safe and secure environments that will lead to better-quality life and outcomes for First Nations peoples.
BRINGING FIRST NATIONS PERSPECTIVES INTO EDUCATION AND HEALTH SYSTEMS,
AND ORGANISATIONS AROUND AUSTRALIA
WE'RE ALL ABOUT HELPING YOU
Build a strong cultural understanding
Work together co-designing First Nation perspective training modules and resources
Work together to build culturally responsive programs and initiatives.
Provide opportunities for staff development - building cultural intelligence and understanding
Provide tools and resources to help build strong schools, systems and organisational structures
Develop a pathway to building a culturally responsive organisation or system
Building strong community relationships

Providing opportunities to support social and emotional well-being of students, and/or staff

Develop authentic educational resources, programs and systems

Develop short films and media

Graphic design and illustrations
---
Walk with us and become a member of the TIPIAC tribe. You will have full access to all resources and join a community of like minded teachers
---
---
We provide practical examples of the many ways you can build cultural knowledge and understanding in your schools.
---
---
Our professional development programs and masterclasses are created to help educators, corporate entities, health systems, businesses and those in government sectors build culturally responsive and safe systems within their field of work. Building cultural intellect and culturally secure systems helps develop strong pathways to creating long lasting reconciliation and a culturally responsive environment for First Nations peoples of Australia. These programs help to raise understanding of cultural perspectives in our systems, classrooms, schools, businesses, corporations and health systems.
---
---
We Make It Simple To Teach Indigenous Perspectives.
We provide Indigenous perspectives for Key Learning Areas from P to 12 inline with the Australian Curriculum. Our program is planned and developed by Indigenous teachers who work closely with cultural practitioners, elders and community members. TIPIAC's programs brings First Nations culture and history to life in the classroom through innovative and fun techniques.
---
BRONWYN COCHRANE
GAMILARAAY WOMAN
TIPIAC FOUNDER & DIRECTOR
LEAD ABORIGINAL EDUCATION CONSULTANT
2016 was when the idea of TIPIAC came to life. I am a proud Gamilaraay woman and teacher who has been in the education system now for over 25 years and wanted to develop a platform for teachers Australia wide to access authentic First Nations classroom and curriculum resources from Preschool to Year 12. My aim is to give educators both resources and confidence through TIPIACs support network to teach rich First Nations perspectives in all Key Learning areas. We also work within the health and wellness space, by providing pathways, frameworks and cultural competency courses to those who work with First Nations communities and peoples. I know how enriching and diverse my culture is and am very passionate about sharing it. I believe that it is vital and unique to Australian teachers and students to be able to learn about Aboriginal and Torres Strait Islander people's culture, history and spirituality. That is why I founded TIPIAC.
HELEN COONEY
LEAD EDUCATION CONSULTANT
With 45 years experience in the Education system across remote, rural and urban settings. Helen has worked as a classroom teacher, a subject co- ordinator, an executive school team member, Assistant Principal, Principal, Literacy/ Numeracy Consultant, Special Programs Consultant, K-12 Consultant. Helen has been a guest speaker at University for Literacy in high school settings and invited guest speaker for Special Needs/ Life Skills implementation programs.
LENA-JADE COCHRANE
GAMILARAAY WOMAN
GRAPHIC DESIGNER, ILLUSTRATOR & RESEARCH ASSISTANT
TIPIAC is a community I am passionate about as I love both sharing and learning about my culture. I am lucky enough to be able to bring to life resources and learnings of the history and culture of Aboriginal and Torres Strait Islander people.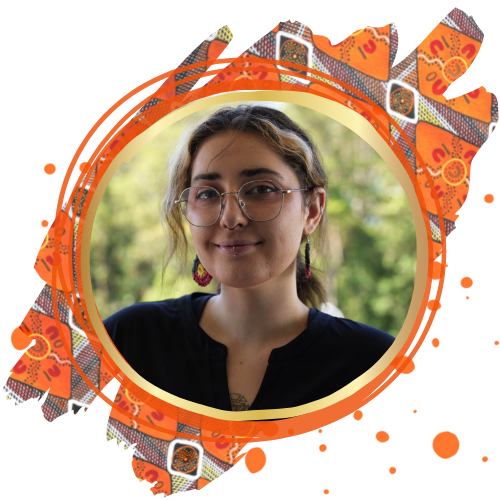 COBY COCHRANE
GAMILARAAY MAN
TIPIAC CINEMATOGRAPHER & VIDEO EDITOR
Undoubtedly my favourite and most memorable experiences come from learning from the elders and translating that into film for our TIPIAC community to use. Being able to share these films Australia wide makes me really proud to be representing my culture.
TIPIAC acknowledges that the land on which we live, work, and play on was never ceded. Australia was built on stolen lands. We acknowledge the rich, diverse, and deep knowledge systems and cultural practices that have existed for hundreds of thousands of years in Australia.
We pay our deep respect to our ancestors who have walked this Country over many generations, and we also honour and pay our respect to the Elders across the many Aboriginal and Torres Strait Islander nations across this Country.  We acknowledge the special and unique relationships First Nations peoples have to Country, Waterways and Sky's across this continent.
We acknowledge First Nations peoples and their continued connection to culture, knowledge systems, spirituality, language, and cultural practices. Always was, always will be Aboriginal and Torres Strait Islander Lands and waterways.